If you wondered where to print A Name Card in Singapore? Well, Joinprint will help you complete your desire with A perfect Name Card design with a cheap price.
Why print with Joinprint?
Joinprint is one of the best online printing company in Singapore. This online printing platform offers you the most popular marketing tool that everyone needs such as Name cards/Business cards, Flyers, Brochure and etc. Printing nowadays is not yet dead instead of that it's more important to build connections in your career and more reasons why printing still matter to you!
Joinprint has expanded from Hong Kong, Australia to Singapore with a strong potential of our best quality printings at a cheap price. You can find a wide variety of products in different categories such as Personal products to other promotional products. Our website comes with user-friendly design and infrastructure, you can easily access any products, create your own Name card design and check out to make an order.
How to order online printing products?

1. Open Joinprint Homepage
Open the website www.joinprint.com/sg and begins to choose your products.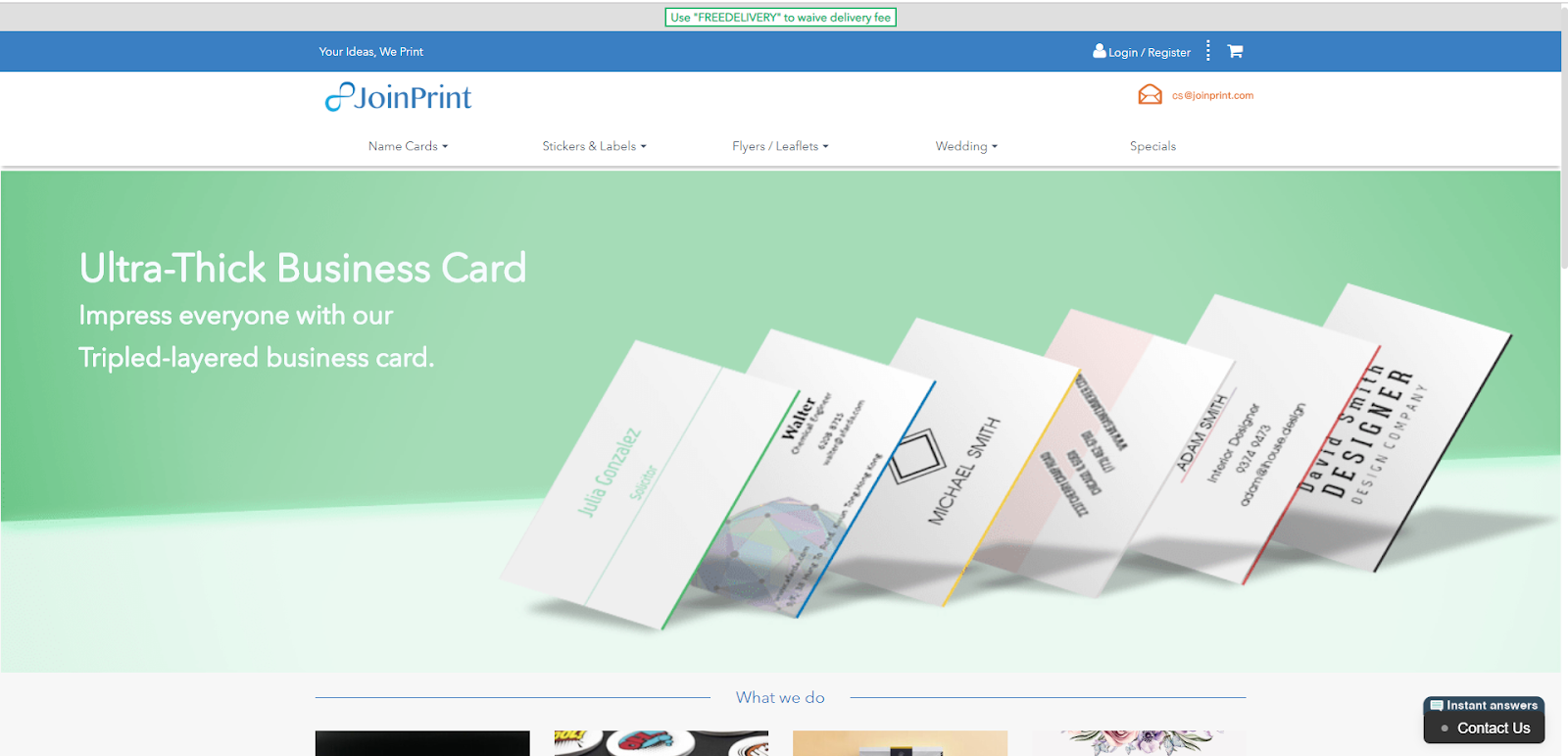 2. Choose A product you would like to print
For example, If you want to Print A Name Card...Here's you can see "Use JoinprintTemplate" or "Upload Your Artwork" as you want. Other questions, please feel free to contact us.
You can design name cards by following the standard dimensions or download the free template on Freepik.com to help you save more time preparing your artworks!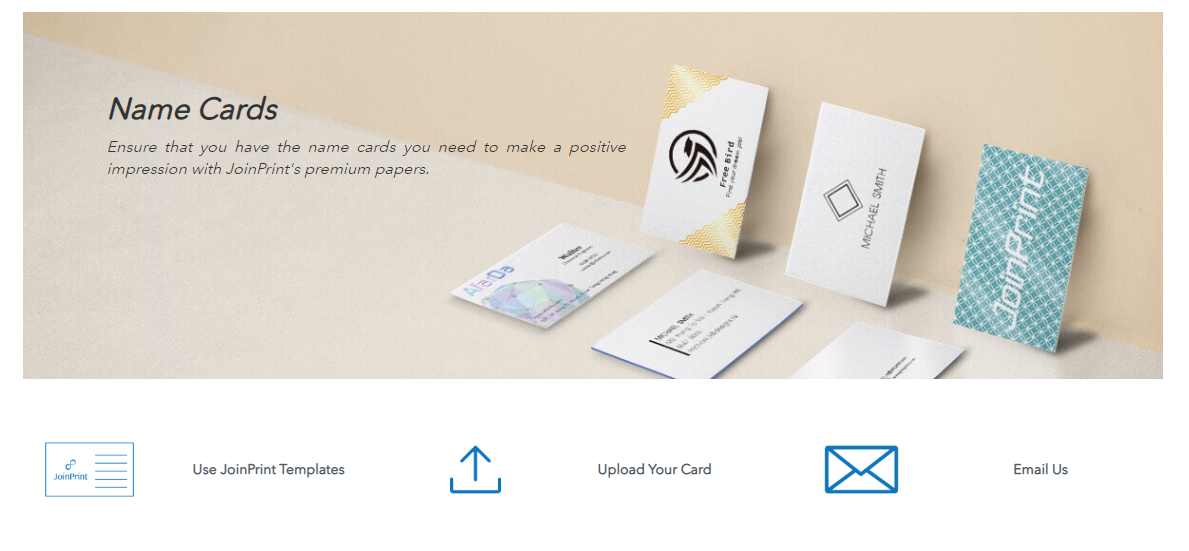 3. Choose your Name card Types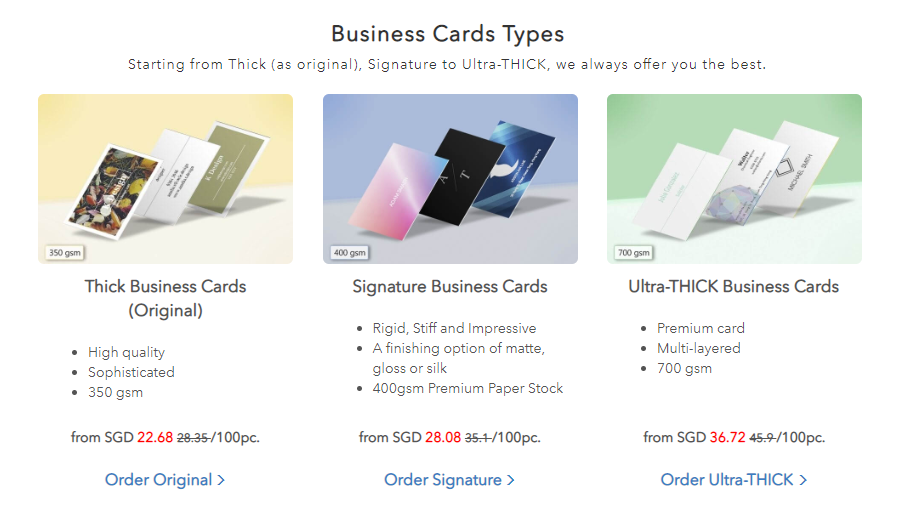 We have different Types of your Name Card for you to choose from:
1. Thick Business Cards (Original)
High quality

Sophisticated

350 gsm
2. Signature Business Cards
Rigid, Stiff and Impressive

A finishing option of matte, gloss or silk

400 gsm Premium Paper Stock
3. Ultra-THICK Business Cards
Premium card

Multi-layered

700 gsm
4. Choose Special Paper Types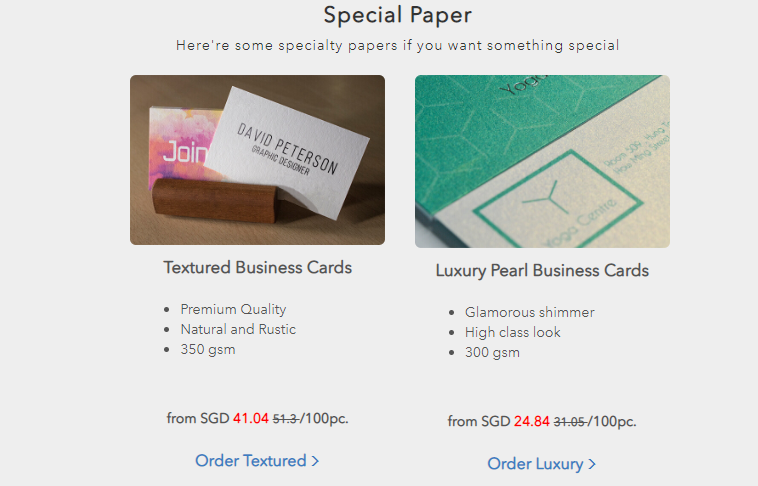 For the Paper, you can choose from two different types here:
1. Textured Business Cards:
Premium Quality

Natural and Rustic

350 gsm
2. Luxury Pearl Business Cards:
Glamorous shimmer

High-class look

300 gsm
5. Choose your Paper Types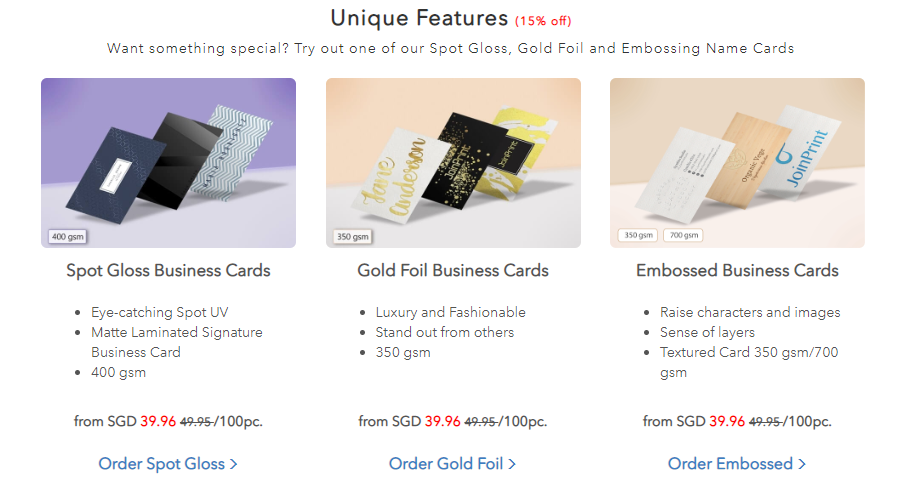 Make your "Name Card" stand out by choosing Unique Features:
Luxury and Fashionable

Stand out from others

350 gsm
Raise characters and images

Sense of layers

Textured Card 350 gsm/700 gsm
6. Choose your Name Card Size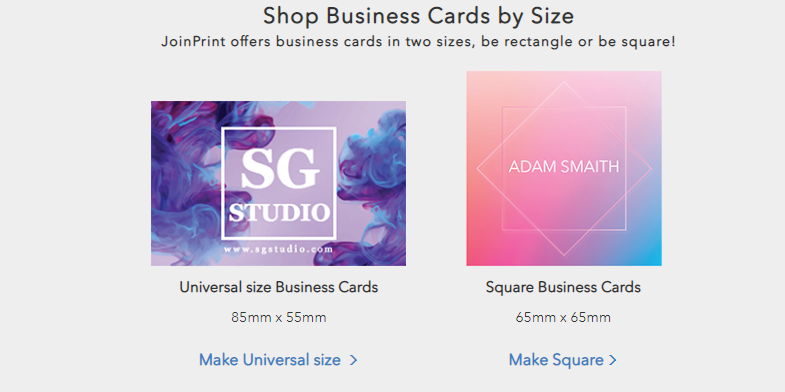 JoinPrint offers two sizes of Name Cards for you:
Standard size Name cards - 85mm x 55mm
Square size Name cards - 65mm x 65mm
After choosing your Name card elements, then make an order. After that, it's a time to lay down and wait for your delivery! :)