Vectors are better! WHY??!!
To Save your time from designing a Wedding card yourself on Adobe Illustrator or Adobe Photoshop by using Vectors! Since Vectors have high resolutions for a better printing quality. Since the quality of your final products depends mainly on 2 things in printing: Printing equipment and the artwork file that it will be sent to the production.
Using Wedding card vector graphics will help you save a lot of time and avoid losing the quality issue that usually happens when you enlarge the pictures. That is why when you print a vector in any size, the quality will always look sharp especially the details will be more appealing.
These are "Top 5 Wedding Card vector websites" that you can download for FREE: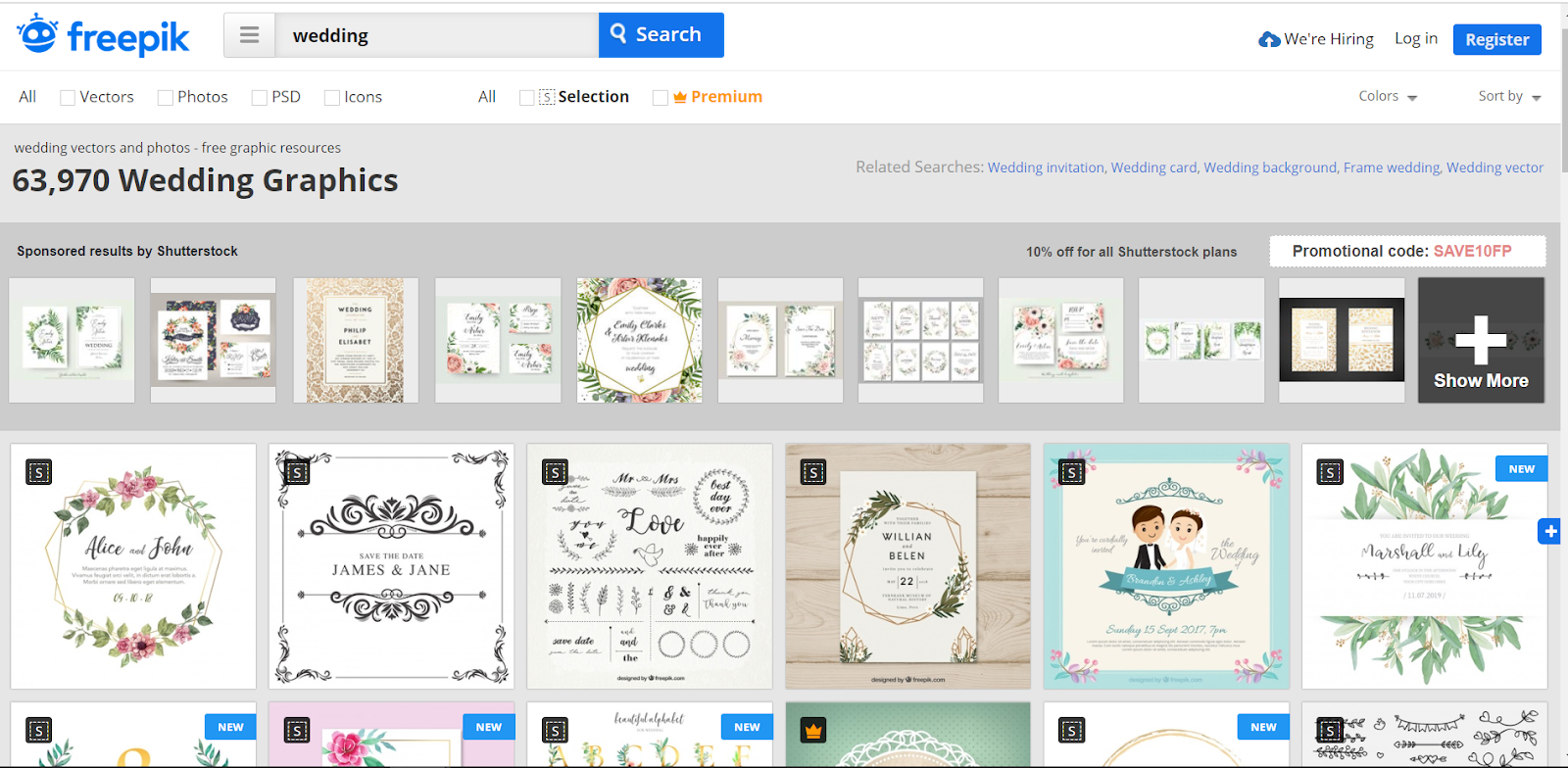 1. FREEPIK
Website: http://www.freepik.com/
If you search on Google about Vector, you will see Freepik pop up on the first result. Since they provided you thousands of vectors you need. There are so many beautiful vectors for printings such as Name Cards or Wedding Cards. Their stocks are included stock images and PSDs, but not with SVG and PNGs.
You can choose Premium account for subscribers or offer a license to use their design on a variety of projects. If you would like to change your account to Premium, make sure that you need to download lots of graphics for a month. You can't just purchase one graphic and pay for monthly because it is not worth it.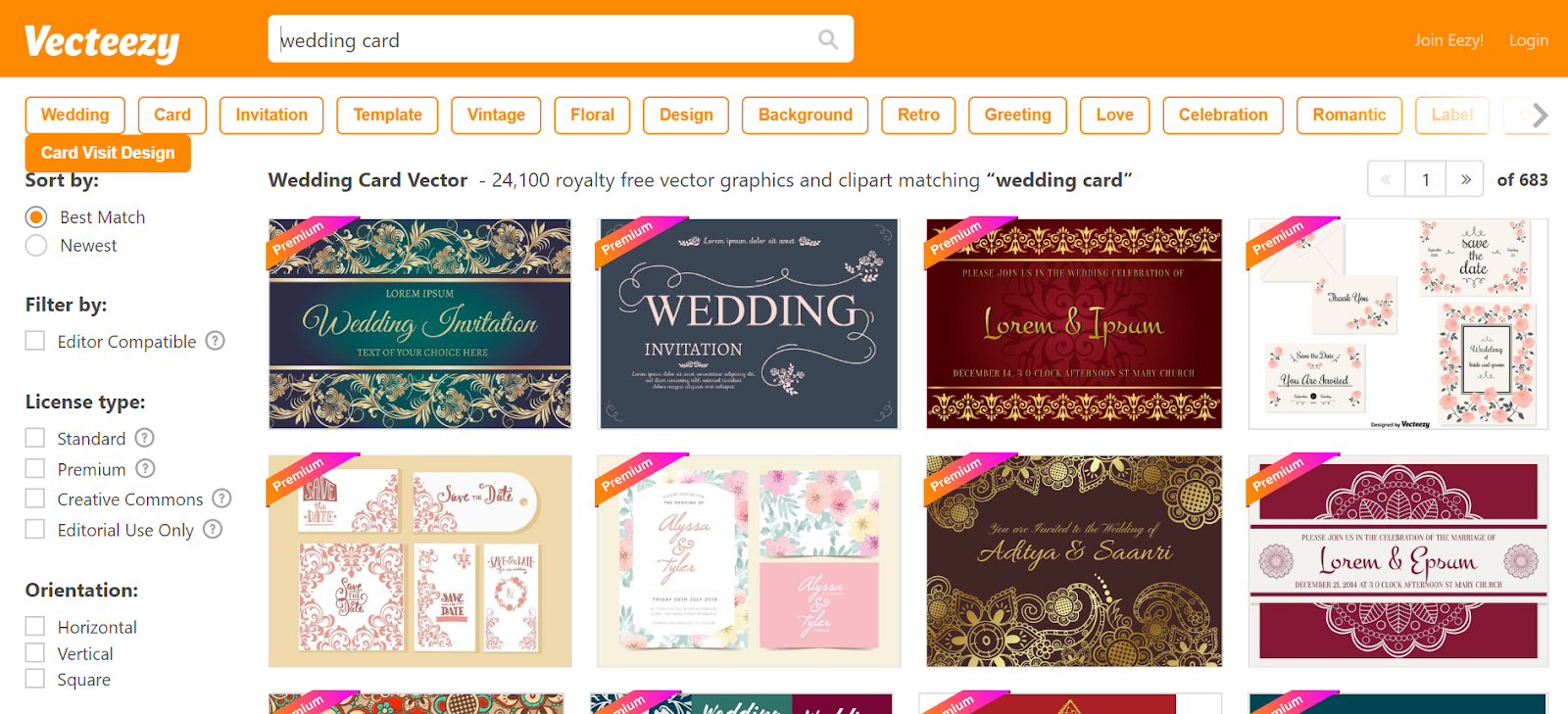 2. VECTEEZY
Website: https://www.vecteezy.com
Vecteezy website has been improved a lot about downloading process. They also have more design on a variety of products and more unique. If you visited this website, you might see some graphics are a little harder to customize. But now, you can easily download the Free version or Premium version and it will come with Ai, SVGs, and PNGs.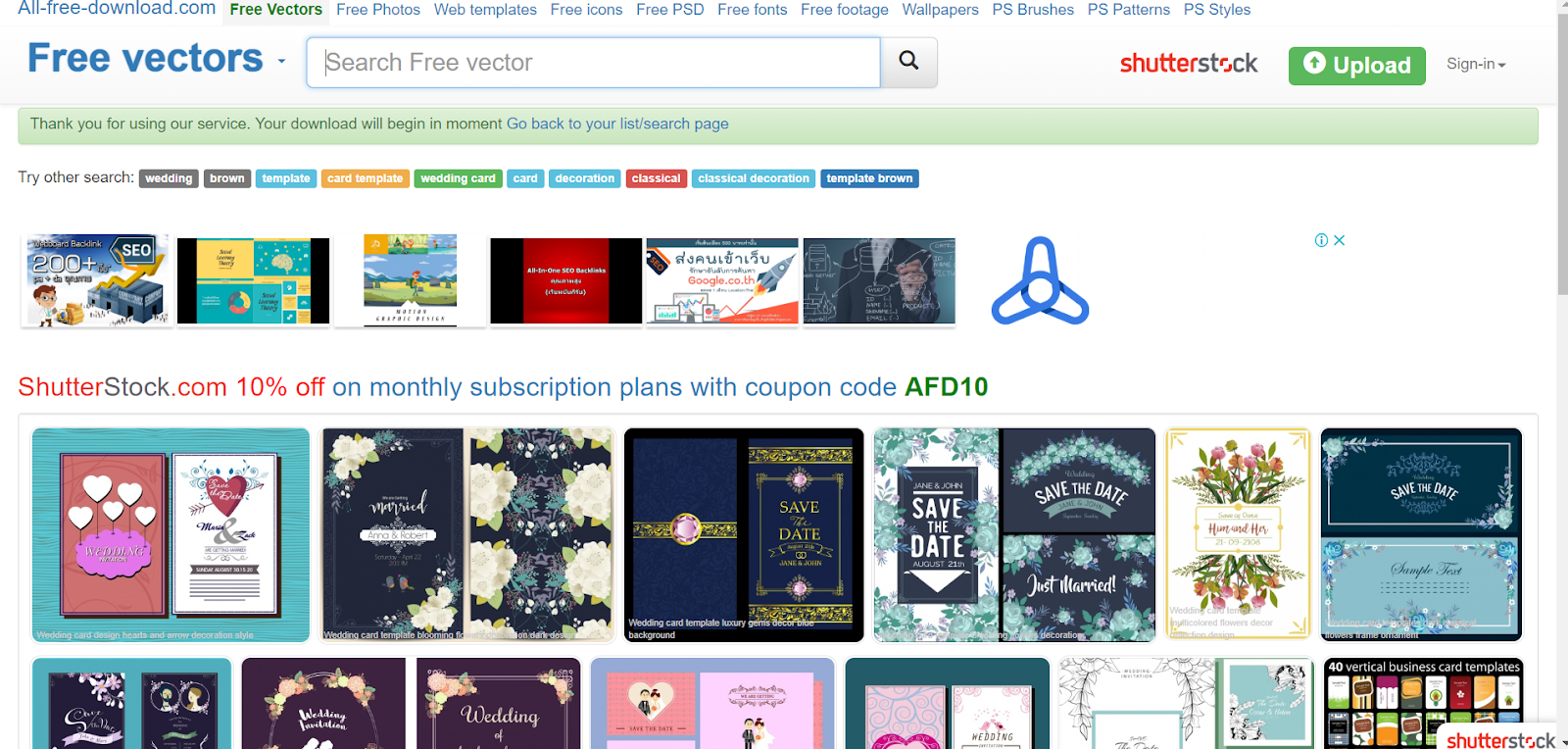 3. ALL-FREE DOWNLOAD
You can download all vectors for Free here and it comes with Eps., Jpg. and Ai. The easiest thing on this website is you can choose everything from hashtags below and the emoji on the top. You can choose to buy the license of the vectors, donate to the author or share it to people who might need this template. One thing that you need to accept on this website is you might see the Shutterstock advertise every which sometimes, it can interrupt when you want to download.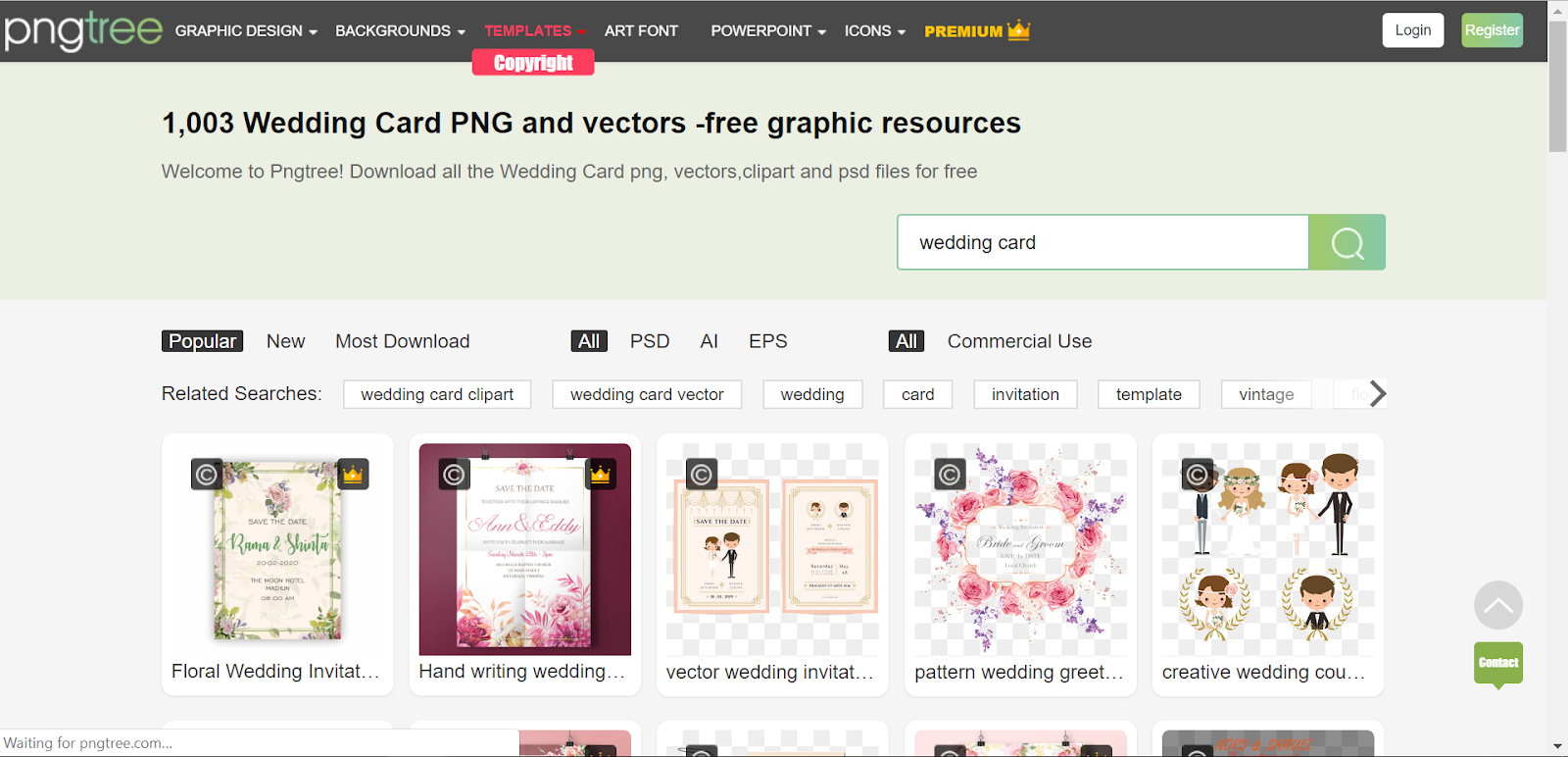 4. PNG TREE
Website: https://pngtree.com
This website might not have a lot of Wedding card vectors but some look very nice. The unique graphic design on the website is obviously the Premium version. If you found some more graphic designs that you would like download then upgrade your version is might be your choice since They offer more than vectors but also Art Fonts and Powerpoint Template and more. This website is very simple to use and easy to navigate what are you looking for.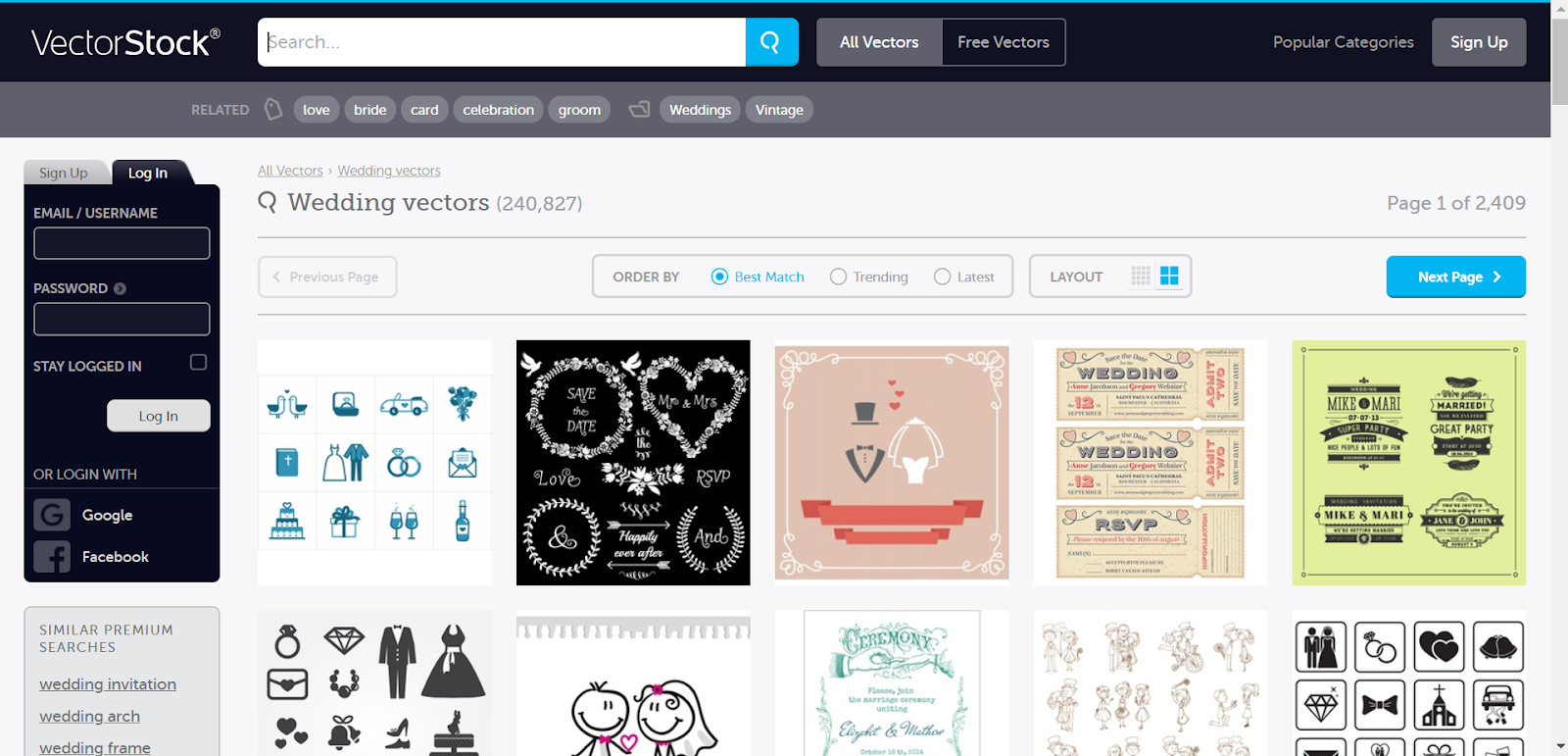 5. VECTOR STOCK
Website: https://www.vectorstock.com
If you have little Adobe design skills, this website will provide you cute Wedding Icons Vectors that you all use. All you have to do is drag the icons to your Wedding Cards Template. But if you found that is pretty confusing, we have easy Wedding Card template for you as well. This website has quite a lot of Vectors for Wedding Cards and it's simple to Search or Chooses the style you would like such as "Vintage Wedding Cards" from the tag on the left-hand side.
Conclusion: Finding the right graphic design sometimes it can be stressful. But with these all 5 Vector Websites that have more than 100k Wedding card vectors you can download for Free, I think this will help you find the right template easier for you.